Ben P. Chung, DDS, DMSc
Board-Certified Orthodontist
Dr. Ben Chung believes that every treatment should be as unique as you and your smile. He also believes that creating a harmonious smile is like creating a work of art. With attention to details and fine-tuning, it is his mission and pleasure to give you a beautiful smile that can enrich your life with more confidence and happiness.
Education
Dr. Chung completed his orthodontic specialty training at Harvard University, where he received Doctor of Medical Sciences degree in Oral Biology and Certificate in Orthodontics. Dr. Chung also received his Doctor of Dental Surgery degree from University of California, Los Angeles, and Bachelor of Science degree with First Class Honors from McGill University.
Dr. Chung is proud to be a Diplomate of the American Board of Orthodontics. He has completed the highest level of the rigorous requirements for board certification, which signifies his pursuit of continued proficiency and excellence in orthodontics. During his studies at Harvard and UCLA, Dr. Chung conducted in-depth research in bone biology and oral cancer to investigate the cellular mechanisms responsible for orthodontic tooth movement and oral structure development.
As a firm believer in continuing education, Dr. Chung regularly attend professional orthodontic conferences to stay current with the advancement of technology and the scientific research findings. By using the latest technology, Dr. Chung and his team are committed to provide excellent quality of care with shorter treatment time and increased comfort.
Professional Affiliations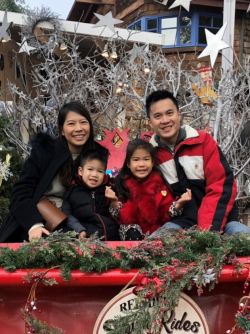 Something Personal
Dr. Chung and his wife, An-Lun, have been living in Chino Hills for many years. They have an adorable girl and a boy, Claire and Nathan. At spare time, An-Lun and Dr. Chung enjoy traveling, watching movies and sports, and going to restaurants.